SSI INDUSTRIAL SERVICES
Industrial & Commercial Sandblasting
Primary & Secondary Containment
Protective Coatings
Chemical Restoration
High-Pressure Wash
Shop Services
Site Services
Fleet Services
SSI specializes in Abrasive Blasting and Protective Coatings for virtually any steel or concrete applications in Commercial and Industrial Environments.

SSI provides Surface Preparation and Coating of all concrete and steel structures, tank linings, interior and exterior pipe, primary and secondary containment's, process floors, chemical trenches, sumps, pits, basins and all types of processing equipment and machinery. We will even set up a plant maintenance program according to your specific needs.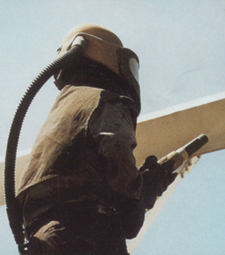 Personnel and Environmental Safety SSI's primary concern is the safety of our crew and the client's environment.

Use of safety equipment such as air-fed helmets, full-body harnesses, safety retrieval equipment, emergency alarm equipment and respirators are strictly enforced.

SERVICE SPECIALTIES, INC. uses only EPA approved materials. SSI prides itself on keeping current with all environmental regulations and requires all employees to attend our on-going education programs; this guarantees that EPA standards are followed closely.